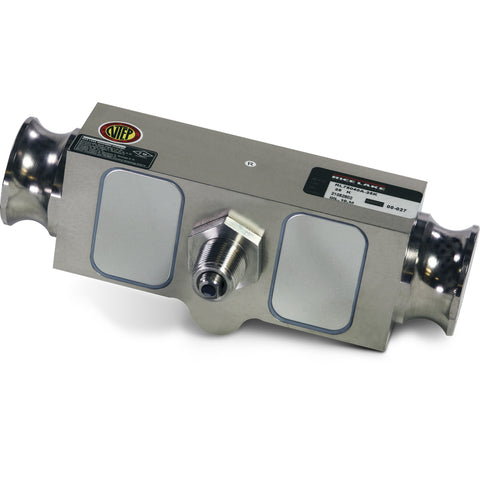 Rice Lake 53593, Small Envelope Double Ended Beam, 60,000 lb Load Cell, NTEP
| | |
| --- | --- |
| Full Scale Output | 3.0 mV/V |
| Material | High Alloy Steel, Nickel Plated |
| Seal Type | Environmentally Sealed, IP75 |
| Cable Length | 40 ft Cable |
| Safe Overload/Sideload | (Overload) 150% full scale (Sideload) 100% full scale |
Product Description
Interchangeable products for the load cells are: VPG Sensortronics 65040A, VPG Celtron DLB, Artech 80310, Thurman TSC 840, Sentran WD1, Anyload 102TH. Double-ended beam load cell. Nickel plated and environmentally sealed with stainless steel plates. Designed for center mounting and double link loading, compatible with Unilink/Translink suspension up to 75,000 lb (34,019.4 kg). Capacities range from 25,000 lb to 125,000 lb (11,339.8 kg to 56,699.1 kg). Resistance: (Output) 700 (± 10) ohm (Input) 770 (± 10) ohm. *Small envelope load cells have an input resistance of 700 (± 14) ohms.* Rated excitation: 5-10 VDC (15 V maximum). Nonlinearity: 0.003% full scale. Hysteresis: 0.02% full scale. Insulation resistance: 1,000 megohms. Cable color code: (red) positive excitation, (black) negative excitation, (green) positive signal, (white) negative signal.
One of our agent will get back to you as soon as possible
Price : $675.29
Because our price on this item is lower than the manufacturer's suggested retail price, the manufacturer does not allow us to show you our price until you place the item in your shopping cart. Retailers like Amazon have the legal right to set their own prices independently. Adding the item to your cart allows Amazon to show you our price consistent with our goal of always offering you the lowest possible prices on the widest selection of products.
Adding this item won't require you to purchase the product. You can easily remove it from your cart if you decide not to buy it.