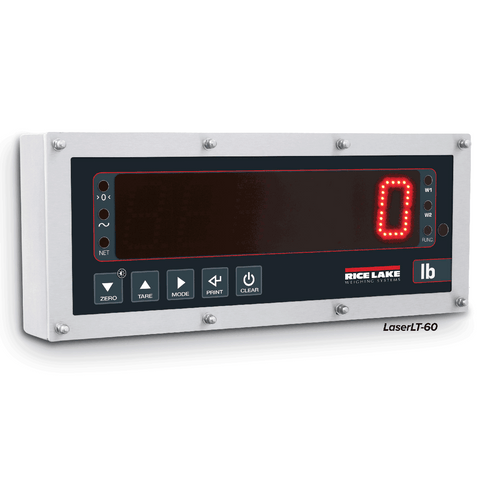 Rice Lake 185253, LT-60 LED Laserlight Remote Display, 304 Stainless Steel, IP68
| | |
| --- | --- |
| Maximum Viewing Distance | 75 ft (25m) |
| Display | 6 digit, 7 segment descrete oval red LED lamps, single width |
| Keypad | Integrated 5 key waterproof keypad |
| Enclosure | Fitted with anti-condensation air valve to regulate humidity and pressure |
| Interface | RS-232 & RS-485 |
Product Description
Use the LaserLT-60 and LaserLT-100 remote displays to clearly display weight information at distances up to 150 feet. The displays are ideal for applications where weight needs to be viewed from a distance. Both the LaserLT-60 and the LaserLT-100 operate with a range of weight indicators to easily integrate with any system. The incoming format can be interfaced through a set function or with a manual setup. The LaserLT-60 and LaserLT-100 are designed for indoor, outdoor and washdown applications. With adjustable brightness, the six-digit, seven-segment character LED displays are easy to read even in direct sunlight. The stainless steel enclosure is weathertight with an IP68 rating. With a standard anti-condensation air valve regulating humidity and pressure, these displays are protected for outdoor use. The LaserLT-60 and LaserLT 100 are easy to mount with standard back brackets. The back brackets have a 15-degree angle for clear visibility from below.
One of our agent will get back to you as soon as possible
Price : $1,301.61
Because our price on this item is lower than the manufacturer's suggested retail price, the manufacturer does not allow us to show you our price until you place the item in your shopping cart. Retailers like Amazon have the legal right to set their own prices independently. Adding the item to your cart allows Amazon to show you our price consistent with our goal of always offering you the lowest possible prices on the widest selection of products.
Adding this item won't require you to purchase the product. You can easily remove it from your cart if you decide not to buy it.