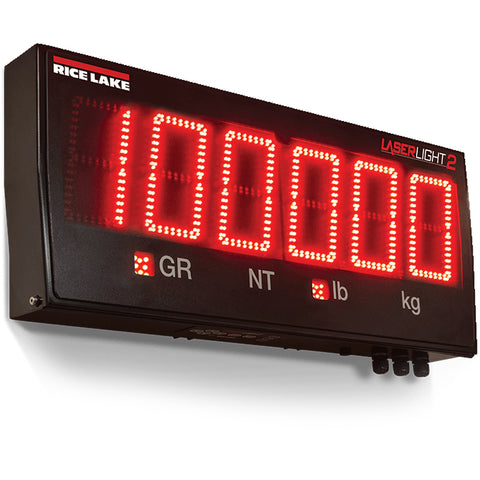 Rice Lake 175861, 6" LED Remote Display with VESA Flat-Wall Mount Bracket
| | |
| --- | --- |
| Maximum Viewing Distance | 300' |
| Input Interface | RS-232, RS-485, 20mA current loop (active or passive, switch selectable) |
| Update | Continuous or out-of-motion (software selectable) |
| Enclosure | IP66, Weather Tight, Powder Coated Steel |
| Character Format | 7 or 8 bits, even/odd/no parity, 1 or 2 stop bits, self-learning or software selectable |
Product Description
Six high-intensity red digits (double-row discrete LED). Auto Learn mode of communication protocols. Hold displayed weight (demand input). Software selectable standstill mode for no updates while in motion. Durable weathertight IP66 enclosure. Adjustable daylight/night intensity. Non-glare contrast filtered lens. Mirror (reverse image) function. RS-232, 20 mA and RS-485 communications. Auto sensing 115/230 VAC power supply. Polyethylene breather vent inhibits internal moisture buildup.
One of our agent will get back to you as soon as possible
Price : $1,795.99
Because our price on this item is lower than the manufacturer's suggested retail price, the manufacturer does not allow us to show you our price until you place the item in your shopping cart. Retailers like Amazon have the legal right to set their own prices independently. Adding the item to your cart allows Amazon to show you our price consistent with our goal of always offering you the lowest possible prices on the widest selection of products.
Adding this item won't require you to purchase the product. You can easily remove it from your cart if you decide not to buy it.