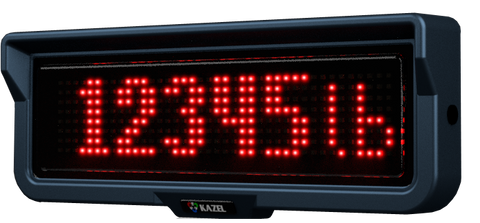 Kazel WA-1 MINI, 2.4" Alphanumeric LED Remote Display, Auto Learn Technology,
| | |
| --- | --- |
| Display | LED 2.4" character height |
| Enclosure | IP66, Polycarbonate |
| Compatibility | All weighing indicators using WagSet 2 software |
| Visibility Range | Approx. 85ft |
| Baud Rate | 2400, 4800, 9600, 19200 |
Product Description
WA Series displays feature Kazel Auto-Learn technology which is one of the most advanced in the market of remote displays. Our complex algorithm makes them be plug & play devices which are up and running within a few seconds. They can be connected to virtually every weighing indicator and all extra features can be configured with easy-to-use WagSet 2 software. WA-1 MINI was designed in an extra strong polycarbonate housing. 8x40 pixels, 2.4" full matrix LED boards allow to display not only the weighing score but also various info and advertising messages. Casing tightness rating IP66.
One of our agent will get back to you as soon as possible
Price : $625.00
Because our price on this item is lower than the manufacturer's suggested retail price, the manufacturer does not allow us to show you our price until you place the item in your shopping cart. Retailers like Amazon have the legal right to set their own prices independently. Adding the item to your cart allows Amazon to show you our price consistent with our goal of always offering you the lowest possible prices on the widest selection of products.
Adding this item won't require you to purchase the product. You can easily remove it from your cart if you decide not to buy it.