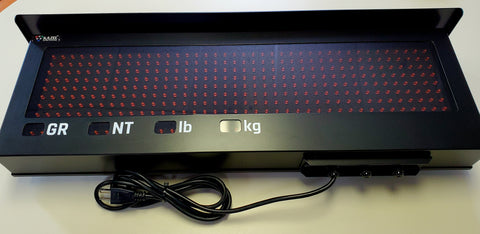 Kazel RM-470-V, LED Remote Display, Visor, 4.7" Character, Auto Learn Technology
| | |
| --- | --- |
| Communication Interfaces | RS232, RS485/422, Ethernet |
| Display | LED 4.7" character height, 5 digit fonts |
| Enclosure | Powder Coated Steel with Visor, IP65 |
| Visibility Range | Approx. 170ft |
| Compatibility | All weighing indicators using WagSet 2 software |
Product Description
RM-470 is the newest and most advanced of all our remote displays. It features Kazel Auto-Learn technology – our complex algorithm makes it a plug & display device which is up and running within a few seconds. It communicates with virtually every weighing indicator and all extra features can be configured via an easy-to-use WagSet 2 software. RM-470 comes in a powder coated steel housing which includes a drop-down electronics carriage for quick and easy installation and service. 8x40 pixels, 4.7" full matrix LED boards allow to display not only the weighing score, but also various info and advertising messages. Viewing distance of approx. 170 ft. Super bright red LEDs with a wide reading angle. Standard full 40x8 pixels matrix displays all printable ASCII characters. Annunciator lights. Automatic brightness adjustment. Weather-tight finish (protection class IP65). Drop-down electronics carriage for quick and easy installation and service. Standard communication via RS232, RS485/422 or Ethernet interface. Communication status lights. Data transfer rate: 2400, 4800, 9600, and 19200 bps. Automatic detection of communication protocol. Operating temperature range -13°F ÷ +158°F / -25°C to +70°C. Power supply: 110-240VAC 47-63Hz.
One of our agent will get back to you as soon as possible
Price : $1,010.00
Because our price on this item is lower than the manufacturer's suggested retail price, the manufacturer does not allow us to show you our price until you place the item in your shopping cart. Retailers like Amazon have the legal right to set their own prices independently. Adding the item to your cart allows Amazon to show you our price consistent with our goal of always offering you the lowest possible prices on the widest selection of products.
Adding this item won't require you to purchase the product. You can easily remove it from your cart if you decide not to buy it.