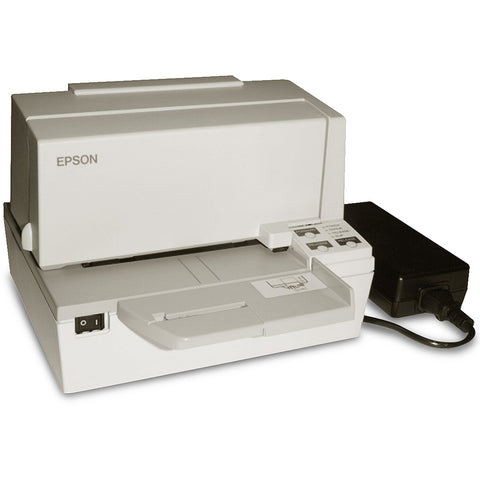 Epson, 68502, TM-U590, Ticket Printer with Power Supply & RS-232, Cool White
| | |
| --- | --- |
| Print Speed | 2.8 to 4.9 lines per second |
| Column Capacity | 88/66 Coulmns |
| Ribbon | ERC-31 (Purple) |
| Character Set | Alphanumeric (95) International (32) Graphic (128 x 10) |
| Print Method | 9 Pin, Serial Impact Dot Matrix |
Product Description
Print Method: Nine-pin, serial impact dot matrix. Font: 7 x 9 and 9 x 9. Column Capacity: 88/66 columns. Character Size: (W x H): 0.05 x 0.12 in/0.06 x 0.12 in (1.3 x 3.1mm/1.6x 3.1mm). Character Set: Alphanumeric: 95 International: 32 Graphic: 128 x 10 Characters Per Inch: 16.7CPI/12.5CPI. Serial Interfaces: RS-232/Bidirectional parallel/RS-485. Data Buffer: 4K/69 bytes. Paper Dimensions: (W x L): 2.76 x 2.76 in/8.26 x 11.69 in (70 x 70mm/210 x 297mm). Paper Thickness: 0.003 in to 0.014 in (0.09mm to 0.36mm). Copy Capabilities: One original and four copies. Power: 24 VDC ±10%. Power Consumption: Approx. 43 W. Drawer Kickout Device Function: Two drives. Ribbon: ERC-31 (purple).
One of our agent will get back to you as soon as possible
Price : $1,150.00
Because our price on this item is lower than the manufacturer's suggested retail price, the manufacturer does not allow us to show you our price until you place the item in your shopping cart. Retailers like Amazon have the legal right to set their own prices independently. Adding the item to your cart allows Amazon to show you our price consistent with our goal of always offering you the lowest possible prices on the widest selection of products.
Adding this item won't require you to purchase the product. You can easily remove it from your cart if you decide not to buy it.