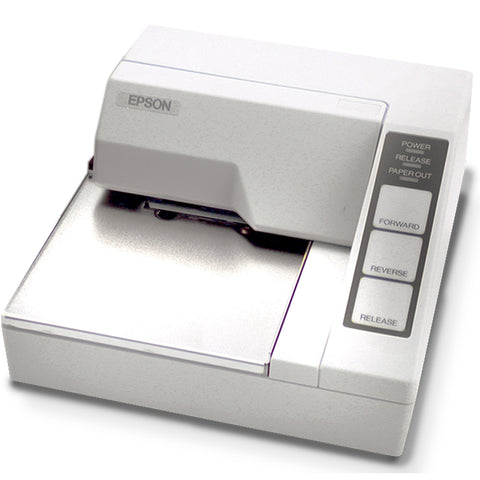 Epson, 35891, Ticket Printer w/ RS-232, Power Supply & 25 DB to Blunt End Cable
| | |
| --- | --- |
| Print Speed | 1.9 to 2.3 lines per second |
| Column Capacity | 35/42 Columns |
| Ribbon | Cassette type purple ribbon (Ribbon life is approx. 1.5 million characters, continuous print) |
| Character Set | Full 96 character ASCII with software control (32 international, 128 x 2 graphic characters) |
| Characters Per Line | 35 Standard Font |
Product Description
Print Speed: 1.9 to 2.3 lines per second (5 x 7 character, 3 dot line spacing). Column Capacity: 35/42 columns. Characters Per Line: 35 standard font. Print Area: 2.59 in W (65.8mm W). Character Formation: 5 x 7 and 7 x 7 dot matrix. Character Height: 0.11 standard font. Character Set: Full 96-character ASCII; with software control, 32 international characters, 128 x 2 graphic characters. Line Spacing: 0.16 in (4.06mm) software programmable in 1/60 in units. Print Head Life: Approximately 100 million strokes/pin. Form Thickness: Single-ply: 0.003 in to 0.009 in (0.08mm to 0.23mm). Copy paper: 0.003 in to 0.014 in (0.08mm to 0.36mm). Ribbon: Cassette-type purple ribbon. Ribbon life is approxi- mately 1.5 million characters (continuous prints). Black ink also available. Serial Interfaces: RS-232 compatible (25-Pin D-sub). Baud Rates: 1200, 2400, 4800, 9600, selectable. Parity: 7 or 8 bits, none, even or odd. Stop Bits: 1 or more. Handshaking: DTR/DSR or XON/XOFF control selectable.
One of our agent will get back to you as soon as possible
Price : $695.00
Because our price on this item is lower than the manufacturer's suggested retail price, the manufacturer does not allow us to show you our price until you place the item in your shopping cart. Retailers like Amazon have the legal right to set their own prices independently. Adding the item to your cart allows Amazon to show you our price consistent with our goal of always offering you the lowest possible prices on the widest selection of products.
Adding this item won't require you to purchase the product. You can easily remove it from your cart if you decide not to buy it.