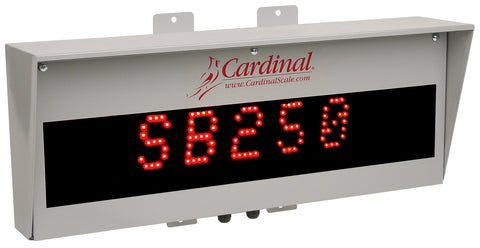 Cardinal, SB250, 2.6" LED Wide Angle Long Range Remote Display
| | |
| --- | --- |
| Display | 2.6" LED consisting of (9) 5x7 alpha numeric characters |
| Interface | 20mA, Active or Passive, RS-232, RS422/485, Fiber Optic, Ethernet |
| Viewing Range | 200' |
| Power | 115 to 230VAC |
| Enclosure | Painted Mild Steel, NEMA 4/IP65 |
Product Description
The SB250 employs many of the same features as the SB500, but in a slightly smaller package. These remote displays feature 2.6-inch-high digits consisting of nine 5 x 7 alphanumeric characters for readouts of upper and lower case letter messages. Cardinal's own Smart Configuration software allows custom formats. The integral rain hood provides extra protection and greater visibility during inclement weather. The SB250 features ten levels of display intensity which adjust automatically via an ambient light sensor, ensuring readability both day and night. Cardinal's SB250, with its 2.6-inch/66 mm high-intensity LED display capable of displaying 5 x 7 alphanumeric upper and lowercase characters, is enclosed in a mild steel outdoor enclosure with rain guard. Features include a 200-foot, wide-angle viewing range, bi-directional RS232 serial port, brightness control, low power circuitry, mounting tabs and annunciators of lb, kg, T, t, G and N. The interface can autolearn most serial protocols. One custom protocol can be entered into the unit. The interface is configurable for serial data input, and also has the connectivity options of fiber optic and ethernet.
One of our agent will get back to you as soon as possible
Price : $1,680.00
Because our price on this item is lower than the manufacturer's suggested retail price, the manufacturer does not allow us to show you our price until you place the item in your shopping cart. Retailers like Amazon have the legal right to set their own prices independently. Adding the item to your cart allows Amazon to show you our price consistent with our goal of always offering you the lowest possible prices on the widest selection of products.
Adding this item won't require you to purchase the product. You can easily remove it from your cart if you decide not to buy it.