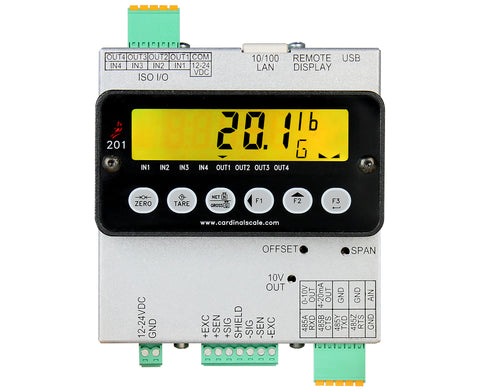 Cardinal, 201 Digital Weight Transmitter, Legal for Trade
| | |
| --- | --- |
| Load Cells | Up to 8, 350Ω |
| Display | 0.5", 6 digit, 7 segment backlit LED |
| Keypad | Membrane type, 6 keys |
| Power | 12-24 VDC |
| Units | lb, oz, kg, g |
Product Description
The 201 weight transmitter is a fast, accurate instrument for process control-based static and dynamic weighing applications capable of powering up to eight 350-ohm load cells and comes with a 35-mm DIN rail mounting bracket. The 201 transmitter features a 0.5-inch-high, six-digit, transflective LCD display with up to seven different colors and is viewable in all lighting levels from direct light to total darkness. A variety of mounting options and ColorZONE control options make it ideal for quick visual verification of weight status. The 201 offers sample rates of up to 200 samples per second and standard communication protocols include serial interface RS232/RS485, mini USB-B, Analog (0-10V or 4-20mA), Ethernet TCP/IP, EIP, and Modbus TCP, making it easy to connect to a PC, PLC, and other smart devices. NTEP, Measurement Canada, CE, and UL.
One of our agent will get back to you as soon as possible
Price : $976.00
Because our price on this item is lower than the manufacturer's suggested retail price, the manufacturer does not allow us to show you our price until you place the item in your shopping cart. Retailers like Amazon have the legal right to set their own prices independently. Adding the item to your cart allows Amazon to show you our price consistent with our goal of always offering you the lowest possible prices on the widest selection of products.
Adding this item won't require you to purchase the product. You can easily remove it from your cart if you decide not to buy it.