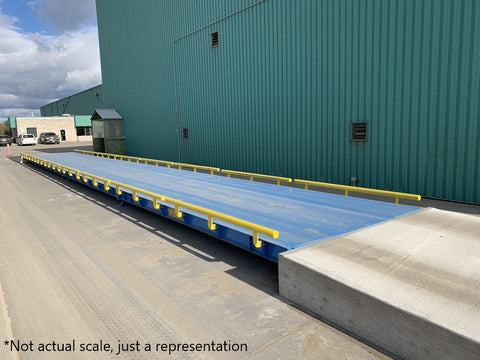 BRAND NEW Active Scale 70 x 11 AMD-1170-3-135FD Steel Deck Truck Scale - For Sale in Canada
| | |
| --- | --- |
| Located In | Canada |
| Condition | Brand New - Never Installed |
| Estimated Age | 2023 |
| Deck Type | Steel |
| Capacity | 270,000 lbs |
Product Description
This listing is for a new, not installed, Heavy Duty Modu-Deck Series truck scale with 10 year warranty on the weigh-bridge and 5 year warranty on the load cells. Top access plates to the load cells and bolt-on guide rails are included. It also includes a Cardinal 225 indicator and Epson ticket printer. This scale has heavy duty 3/8" steel checker plate deck with w10x22lb/ft main beams making the scale 8,600lbs more steel than most others, and 25% more resistant to stress and fatigue for a longer life span.
One of our agent will get back to you as soon as possible
Price : $55,000.00
Because our price on this item is lower than the manufacturer's suggested retail price, the manufacturer does not allow us to show you our price until you place the item in your shopping cart. Retailers like Amazon have the legal right to set their own prices independently. Adding the item to your cart allows Amazon to show you our price consistent with our goal of always offering you the lowest possible prices on the widest selection of products.
Adding this item won't require you to purchase the product. You can easily remove it from your cart if you decide not to buy it.